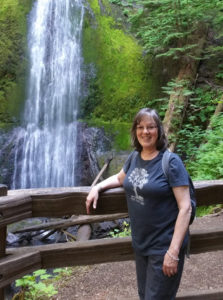 I'm glad you're here. I hope I can be of service to you on your life journey. My belief and experience is that we are here on this Earth to evolve and grow as souls, and that all we experience can further that growth if we approach everything (the good, the bad, and the ugly) with awareness. It seems to me that an awakened consciousness and deep compassion for ourselves and others make this existence a more joyful one.
I am not a member of any specific religion at this time, though I'm an active part of two spiritual communities, the Spiritual Guidance Community, led by Thomas Atum O'Kane, and the Spiritual Enrichment Center of West Sound, on Bainbridge Island, WA, led by Michael Bogar. Both groups offer teachings from many religious/spiritual traditions for mature spiritual exploration and personal growth. In my work with others, I utilize teachings and practices which mesh with their own religious or spiritual understanding. If they don't follow one faith, we use those practices which seem most valuable in the circumstances.
It seems to me that the Divine/God/the Great Mystery or whatever name has most meaning to you, has been sought by people in all places and at all times, and that all religions have teachings and practices that can bring us into contact with the Holy. I'm happy to work with you whatever faith you hold, or if you have no religious beliefs at all. My desire is to help you see your life and yourself more clearly, with more understanding and love.